No one wants to buy an outdated digital camera, especially if you're already planning to make an investment. I remember seeing this happen all over Facebook when Fuji released the X-T4 earlier this year with a slew of new, enviable features.
Even if Fuji's camera have an excellent lifespan, you still want to fully know your options before making a decision. And that's why this post is here.
This post is kept up-to-date with the latest Fujifilm rumors from 2020, so you can check in and make sure that your next camera investment is done at exactly the right time!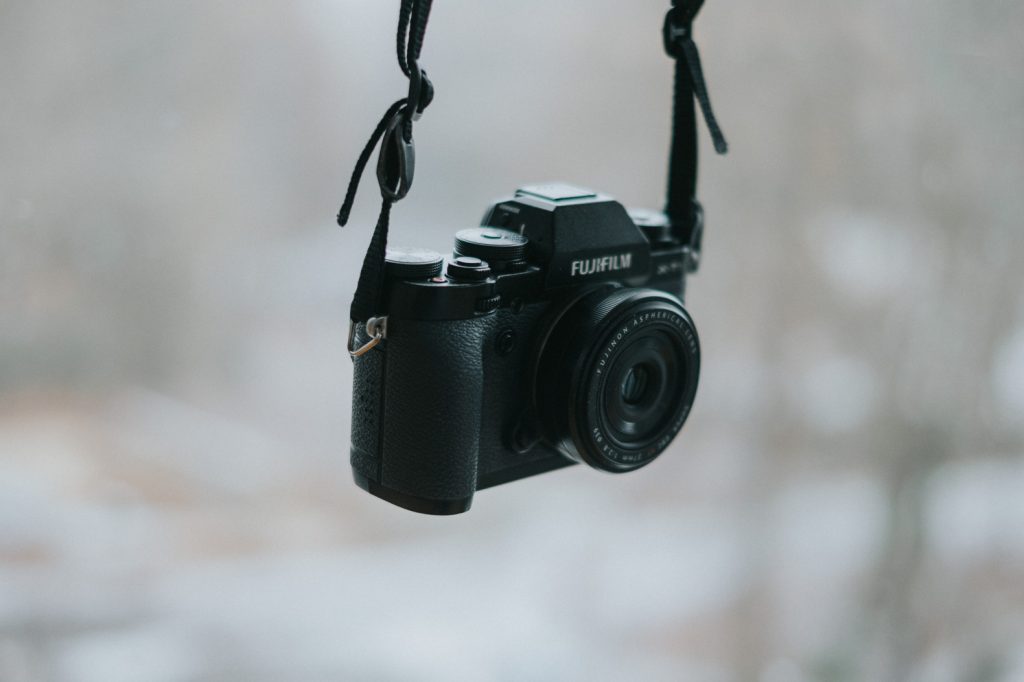 New Fuji cameras already announced in 2020
We long had the suspicion that Fuji was going to come out with an X-T4, and it was finally announced in Spring this year. The two biggest points of speculation were for IBIS (in-body image stabilization) and a flippy screen — and Fuji delivered both of them. Numerous improvements make it clear that Fuji is going after the mirrorless market for video/photo hybrid users.
Here are some quick specs:
Sensor: X-Trans CMOS 4
Storage: 2x UHS-II SD memory card
Lens mount: X Mount
LCD screen: Flip-out touch screen
IBIS: Image sensor shift mechanism with 5-axis compensation
Battery life: 500-600 frames
New kit lens option: Fujinon XF 16-80mm F4 R OIS WR
If you're looking to pick up a new X-Series compatible camera and you'd benefit from IBIS, the Fujifilm X-T4 is a no-brainer. Otherwise, you can save some money, the Fujifilm X-T3 is still a great camera and works well for video with lenses with OIS.
Fuji's new X-T200 camera surprised a lot of people — in a good way. It's an entry-level option that gets new photographers into the Fuji X Series at a budget price point.
What I do like about the X-T200 is the fact that it has a viewfinder, which Fuji's other entry-level model the Fuji X-A7 does not. That said, at this price point, it's basically the same as buying the Fuji X-T30 which has a more convenient physical dial system.
You would miss out on a few bonuses like the touch screen and the digital stabilization, but those aren't likely to be a dealbreaker.
The Fujifilm X100V is the spiritual successor to the X100F (and the fifth in the series of insanely popular fixed prime-lens cameras made by Fuji).
Like its predecessors, the focus system uses an Electronic Rangefinder (ERF).
This version's still got the staple 23mm f/2 prime lens, and is compatible with filters from previous generations. It's also got a built-in 4-stop ND filter, a tilting LCD panel, and is even weather sealed when you use a filter and adapter.
If you're a Fuji fan and are looking for your perfect holiday companion, this might be it.
Rumors for new cameras still to come
Fujifilm X-H2
There was some major speculation over whether the camera we thought Fuji would announce, which ended up being the X-T4, would actually end up being an X-H2 — or, alternatively, seal the fate of the X-H line of cameras as a one-hit wonder.
After all — Fuji's X-H camera started out to appeal to photo/video hybrid shooters. And if Fuji has the X-T4 with IBIS and other video features, why do they still need the X-H line?
This has been discussed ad nauseum in Fujifilm facebook groups, but Patrick from Fuji Rumors insists that the X-H line is not dead and we will see an X-H2 at some point in the future.
However, whether that's going to happen in 2020 is certainly in doubt, at the very least in part because of how the coronavirus has affected the Tokyo Olympics and overall consumer behavior.
If you're interested in staying up to date on the latest rumors surrounding Fujifilm as well as deals, don't miss subscribing to the newsletter.
Want to stay up to date for the latest Fuji camera news and rumors?