Even though Fuji is famous for its fast prime lenses, you may also know that they make a series of lenses known as Red Badge zooms.
The Fuji 50-140 is one of a small number of lenses to "earn" that title.
It's got the key features of a premium lens: constant f2.8 aperture, optical image stabilization (OIS), weather resistance, smooth internal zoom, fast to focus, stunning sharpness and image quality.
A big bonus is that it can also be extended with a teleconverter to 280mm.
But it's also not the smallest or lightest lens. And a lot of Fuji photographers ask themselves, "Didn't I go mirrorless to save my back?" 🤣
In this review of the Fuji 50-140mm XF f2.8 R WR LM OIS (what a mouthful!) I'm going to cover all the practical aspects of using this lens: the pros and cons, image quality, how far you can push this lens, and how it holds up to Fuji's other zoom lenses for the size and price.
There are also TONS of sample photos in this article, so you get a full understanding of what this lens can do in the real world.
In this Fujifilm lens review, I'll cover:
Specs for the Fuji 50-140 lens
Pros: What makes the Fuji 50-140 a great lens
Cons: What you'll want to consider before buying
Fujifilm 50-140 f2.8 R WR LM OIS vs. Fuji 55-200 f3.5-4.8 R OIS
Should you also get a teleconverter?
Do you need a battery grip to use this lens comfortably?

Verdict: When is the Fujifilm 50-140mm f2.8 a good fit for

you?
Sample images: Fujinon 50-140mm XF f/2.8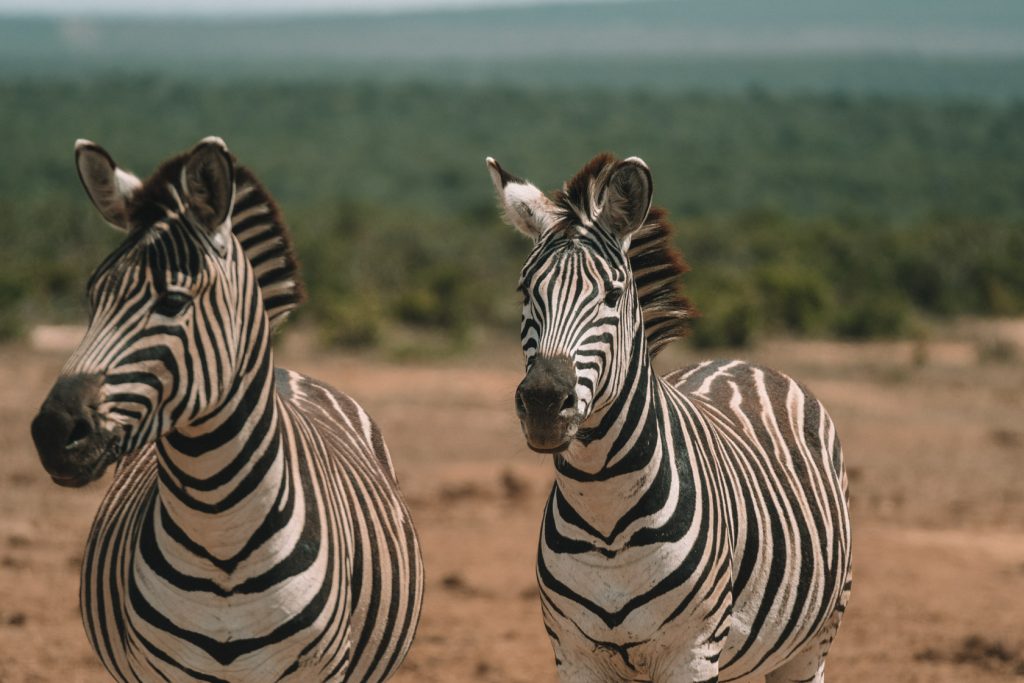 Some links in this post are to affiliate sites. If you purchase something through them, I may earn a small commission. It costs you nothing and I'm extremely grateful when you use my links. Thanks!
Fujifilm 50-140 specs
Focal length: 50-140mm
35mm format equivalent focal length: 76-213mm
Maximum aperture: 2.8 (constant)
Minimum aperture: 22mm
Filter: 72mm
Minimum focus distance: 3.28 feet / 1 meter
Maximum reproduction ratio: 1:8.3 (0.12x)
Optical image stabilization (OIS): Yes
Hood: Yes, includes a plastic tulip-shaped hood
Weight: 995g (2.19 lbs)
Tripod foot: Yes
Pros: What makes the Fujifilm 50-140 f2.8 a great lens
I will be up front about one thing: I love the photos I take with this lens. I think you will see throughout this article that they are just superb.
These are the situations where the Fuji 50-140 really shines:
Wildlife – While it depends how close you'll be to the wildlife you want to photograph (more on that later), the super fast focus of this lens combined with burst mode shooting is a winner for capturing wildlife photos.
Landscapes – Telephoto lenses are excellent for getting details of landscapes from afar.
Portraits – While no, it's not an f1.4 or an f2 lens, the focal lengths on this lens still give you that versatility of a portrait lens and the f2.8 is sufficient for subject isolation.
Everyday photography – While 50mm is a bit tight for a lot of scenarios, I do find it surprisingly flexible. Pair this with something like a prime and a mid-range zoom and you've got a super versatile kit.
Here are a few of the things that really stood out to me when using this lens.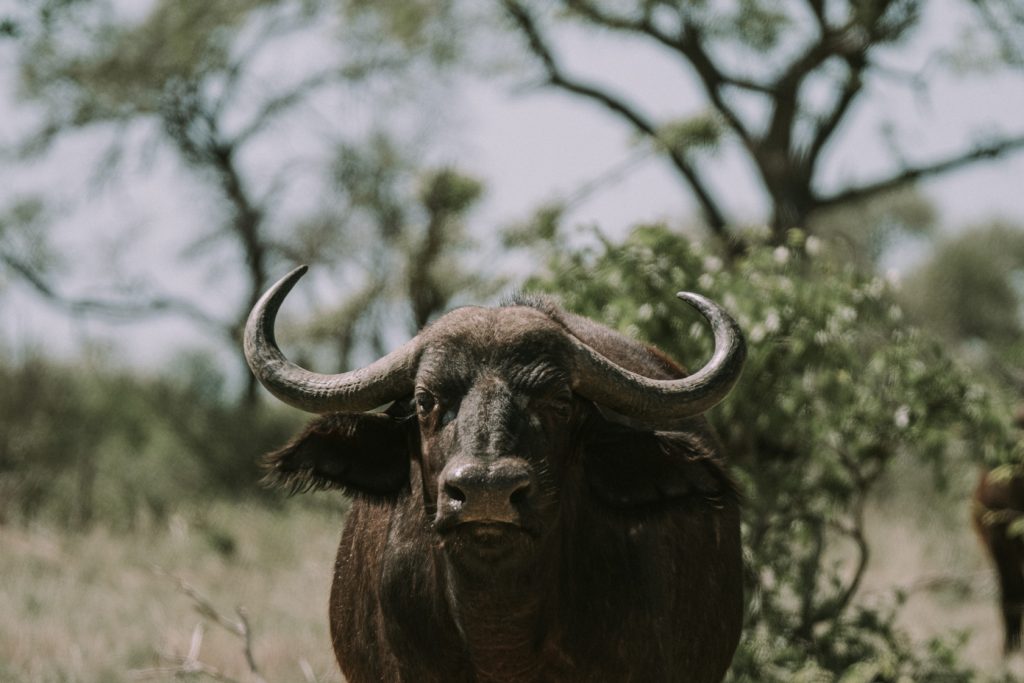 Internal zoom
Unlike the main alternative to this lens in the same focal range, the Fuji 50-140 has internal zoom. Meaning, when you zoom into something, the lens doesn't get longer or "stick out".
While you could just argue that this is more elegant than a lens that has external zoom, it just makes me stress out a bit less about the lens getting bumped and messing up the zoom mechanism.
Super fast focus
This lens has really excellent autofocus. It's fast, silent, and accurate. I used this lens in combination with the Fujifilm X-T2, usually in boost mode, though I'm sure the performance would be even better on more modern X series cameras like the X-T3 or the X-T4 (released just this year).
Constant f2.8 aperture and OIS
While I wouldn't say it's a breeze taking photos at night with this lens without a tripod, the f2.8 is a life-saver when doing what you can. For example, I removed the teleconverter to take this photo because it was simply impossible at f5.6, and was able to capture a sharp photo of this owl at night (also thanks to the optical image stabilization!).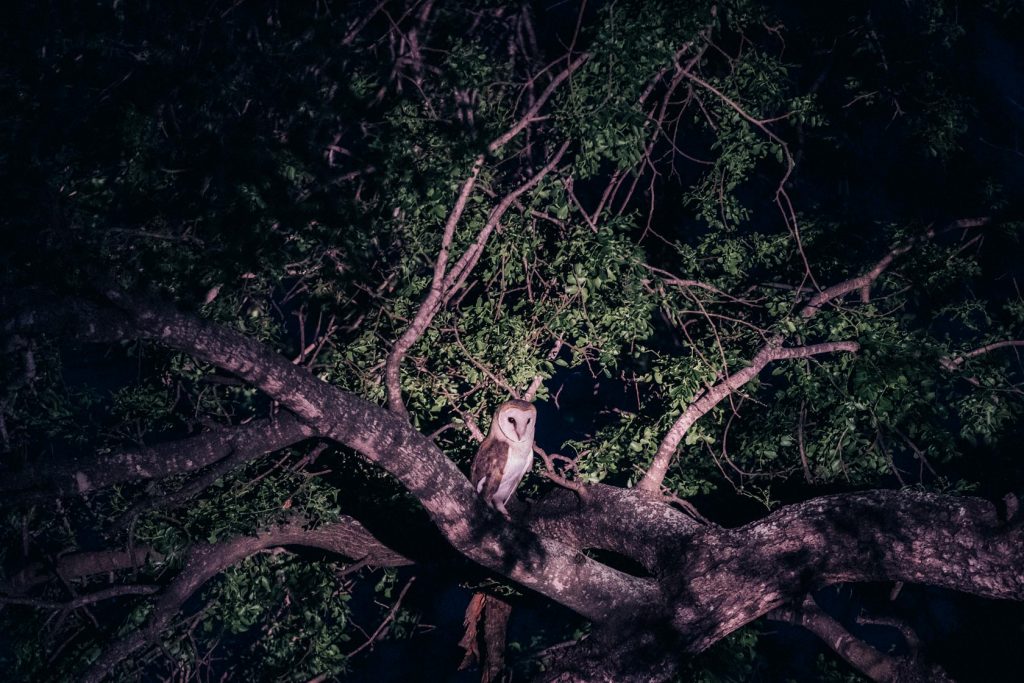 There are plenty of photos that are blurry, but I did manage to capture one that was sharp and could have the exposure bumped up a little in Lightroom.
Robustness and build quality
I hardly need to mention this in a Fujifilm lens review, much less for a red badge zoom, but yes — this lens is an absolute tank. While the hood is made of plastic, the lens itself is full metal.
The aperture ring is not super "clicky" or tight like the Fuji 23mm f2, but I didn't have any issues with it being too loose or prone to changing on its own.
This lens also comes with a tripod foot you can attach, so you can mount a tripod on the lens itself instead of the body. This is important to reduce strain on the lens mount.
You can extend it with a teleconverter
If you're not familiar with teleconverters, I'll explain super quick: a teleconverter is like a smaller lens you can attach to an existing lens. It allows the lens to zoom in further, but also reduces the amount of light getting into the lens.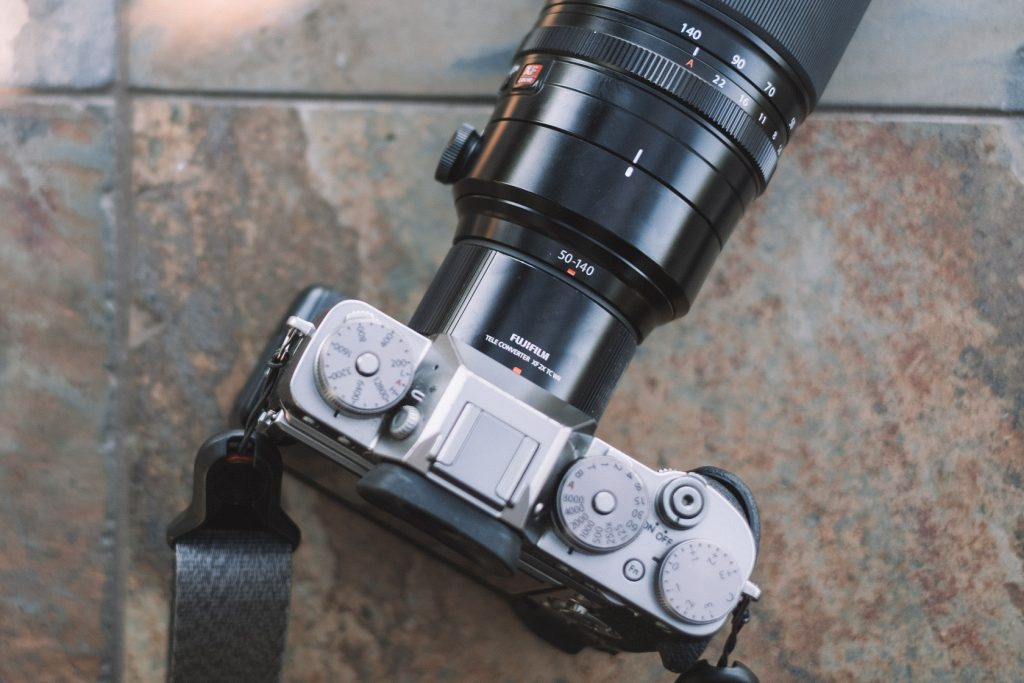 Not all lenses are compatible with teleconverters, but the Fuji 50-140 is. For example, if you attach the Fuji 2x teleconverter, the lens will operate as though it's a 100-280mm f5.6 lens.
This was extremely helpful when on safari, because I didn't know how close I would be to an animal. They can be really far away, or right next to the Range Rover.
The main alternative to this lens, the Fuji 55-200mm, is not compatible with teleconverters. So your maximum reach with that lens is fixed at 200mm, whereas the 50-140 can reach 280mm with a teleconverter attached.
Cons: What you'll want to consider before buying
This lens takes beautiful photos, has fast autofocus, a fast fixed aperture, optical image stabilization, and more. So, what's the catch?
The weight.

It's certainly not the heaviest lens you can buy from Fuji, but at 995g (2.19 lbs) it's a bit hefty.

The reach. You really need to decide for yourself if 140mm (or 280mm with a teleconverter) goes far enough for you.
The price tag. This is easily the most expensive Fujifilm lens I've personally used.
You probably already know that it's expensive, and are looking to figure out if it's worth the price. To me, in terms of a lens to own as opposed to renting, it's totally worth it.
But let's compare it side-by-side with its closest competitor, the 55-200mm.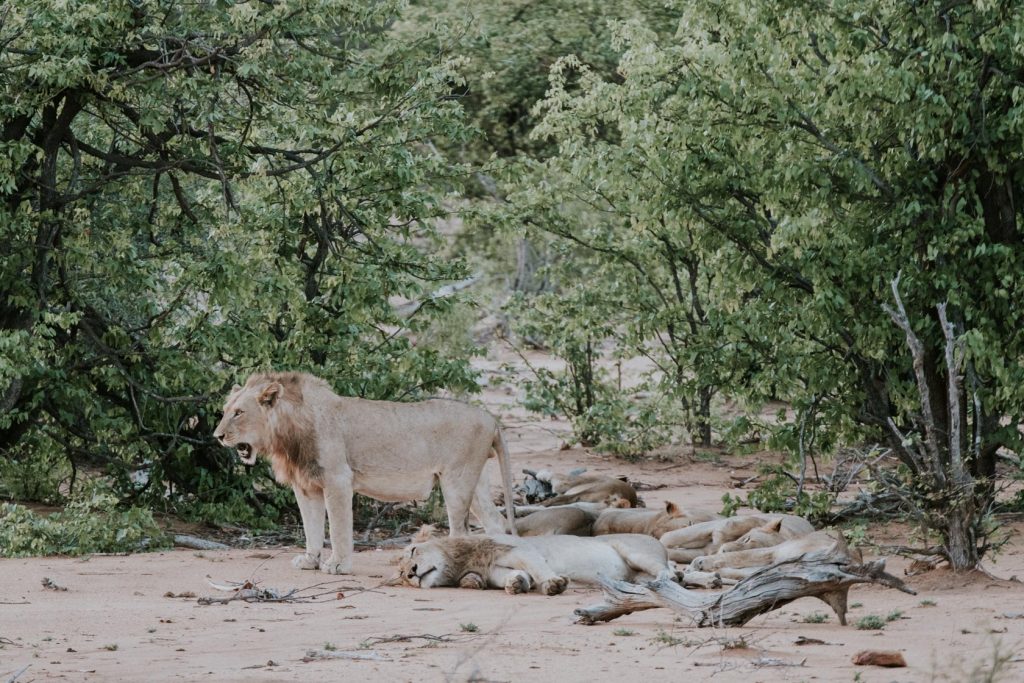 Fujifilm 50-140 vs 55-200
The two main contenders for this range: the 50-140 and its (much) less expensive counterpart, the 55-200mm.
| Fujinon XF 50-140mm f2.8 R WR LM OIS | Fujinon XF 55-200mm f3.5-4.8 R LM OIS |
| --- | --- |
| | |
| f/2.8 maximum aperture | f/3.5-4.8 maximum aperture |
| 995 grams (2.19 lbs) | 580 grams (1.28 lbs) |
| 3.28 feet / 1 meter minimum focus distance | 3.61 feet / 1.1 meters minimum focus distance |
| 7 rounded aperture blades | 7 rounded aperture blades |
| 72mm filter | 62mm filter |
| Weather-sealed | Not weather-sealed |
| Image stabilization | Image stabilization |
| Internal zoom | External zoom |
| Best for image quality, flexibility, low light and option to extend | Still a great value for the money if you are on a budget |
| $$$$ | $$ |
| | |
You can also watch this helpful video comparing the two (I'll summarize the findings below):
Here's a summary of the comparison:
Two photographers have a different favorite Fuji telephoto lens for landscape photography
They take a number of sample shots of the same scene with each lens
Results: The 50-140mm has better contrast and better sharpness in the corners at wide apertures than the 55-200mm.
At apertures like f/16, the corner sharpness is basically the same
Most of the improvements on sharpness and contrast can be fixed with small adjustments in Lightroom
My advice? If I were deciding between these two lenses today, I'd ask myself:
Do I need the f2.8 aperture, weather resistance, and opportunity to extend with a teleconverter, e.g. for wildlife photography? Get the 50-140mm f2.8.
Do I want to keep weight and expenses low, and not have a use-case for the f2.8 aperture and ability to extend to 280m via teleconverter? Get the 55-200mm f3.5-2.8.
These are the key differences. Further, if you are looking for something that can double as a portrait lens and a wildlife lens, the 50-140mm is probably a safer bet thanks to the f2.8 aperture.
Since I took the lens on safari, for me it was a no-brainer that the extra reach was necessary. In fact, next time I'd probably rent the 100-400mm lens just for that occasion.
I probably wouldn't spend the money on a 100-400mm lens unless I knew I would be shooting wildlife regularly (and, for example, didn't live in the middle of a big city…which I do).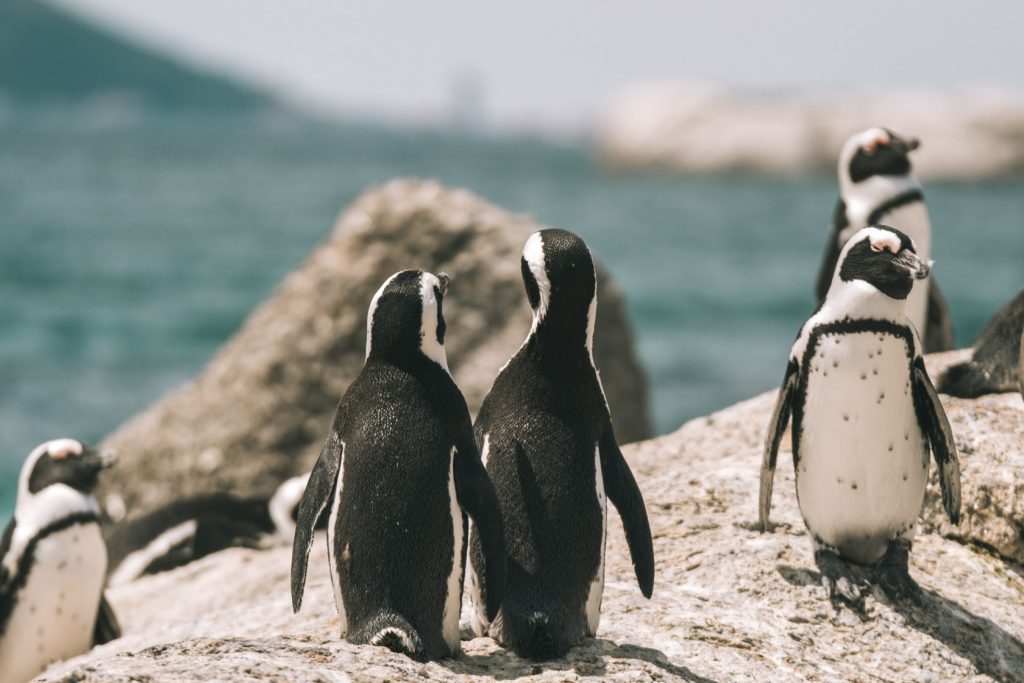 Should you also buy a teleconverter?
Honestly, I relied on the teleconverter a lot because I was shooting photos of animals and it's often not possible to "zoom with your feet" in those kinds of situations (not just because you're in a car, but because it's not safe).
I was really happy to have the extra reach of the Fuji 2x teleconverter.
It does cut out more light than Fuji's 1.4x teleconverter, but I didn't suffer much at f5.6 because there was plenty of light to work with. You can also still get lovely bokeh at f5.6 with this lens.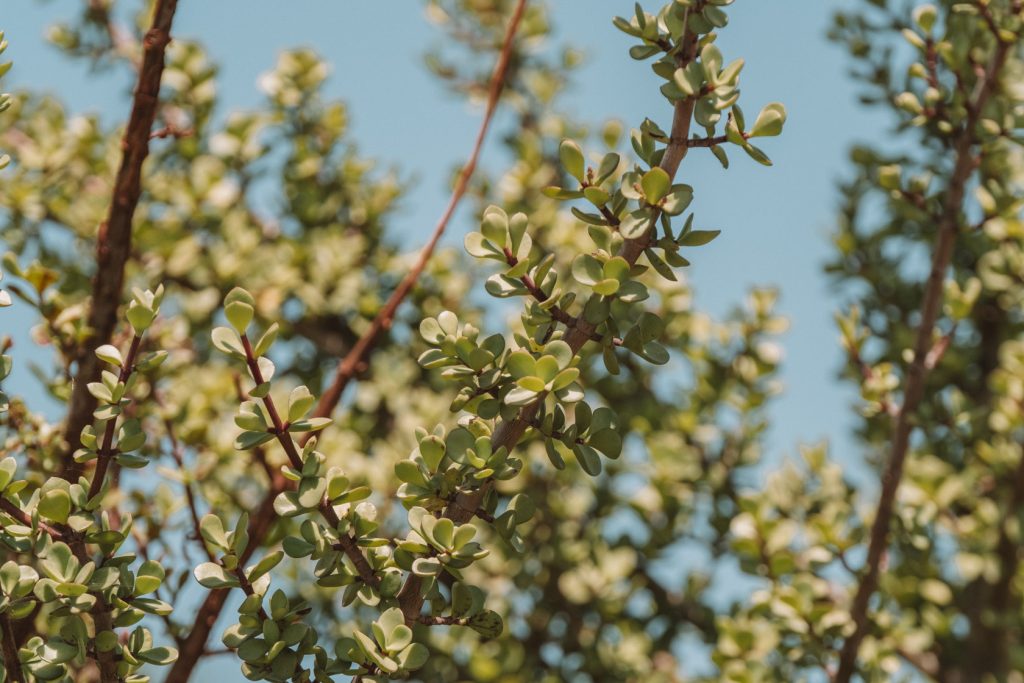 Do you need a battery grip to use this lens comfortably?
Again, I personally did use a battery grip with this lens. Fujifilm's cameras can be really compact and it feels weird to balance. That said, you will always be supporting this lens with your hand.
The other bonus is that the battery grip contains…well…batteries. With three batteries at my disposal, I could shoot all day without running out of power or having to change batteries.
There are battery grips available for all the X-T series lenses:
(I do not recommend using third-party battery grips as they often leave scratches on your camera body. This is a super common complaint in Fujifilm facebook groups.)
Verdict: When is the Fujifilm 50-140mm a good fit for you?
In short, if you have the money to invest in this lens, you won't be sorry you did. It creates stunning photos and is the absolute top quality when it comes to Fuji telephoto lenses.
The 50-140mm range is super flexible, and the fact that you can extend it with a teleconverter just adds to that.
The weight takes a bit of getting used to, but honestly — I'm a pretty small girl and I still yielded the lens without issue. You just need to make sure you hold the lens properly (literally just support the lens with your hand and form a triangle against your body) and you will be fine.
I would opt to use a camera backpack rather than shoulder bag with a lens like this, but again, I'm not a large person so it can depend on you!
You can check the current price of the Fuji 50-140mm on Amazon as well as checking the price on B&H Photo (in my experience they're always the same, but it doesn't hurt to try both).
If you are on a budget, or maybe you are on the market for just your second or third lens — the 55-200m lens by Fuji is considered an excellent value for the money. You can always upgrade when it's convenient as Fuji's lenses rarely depreciate in value.
Sample images: Fujinon XF 50-140mm f/2.8
I should not that all but the first image in the next set was taken with both the 50-140 lens and the Fuji TC 2x teleconverter. Since my primary use case for this lens was wildlife, most images use both.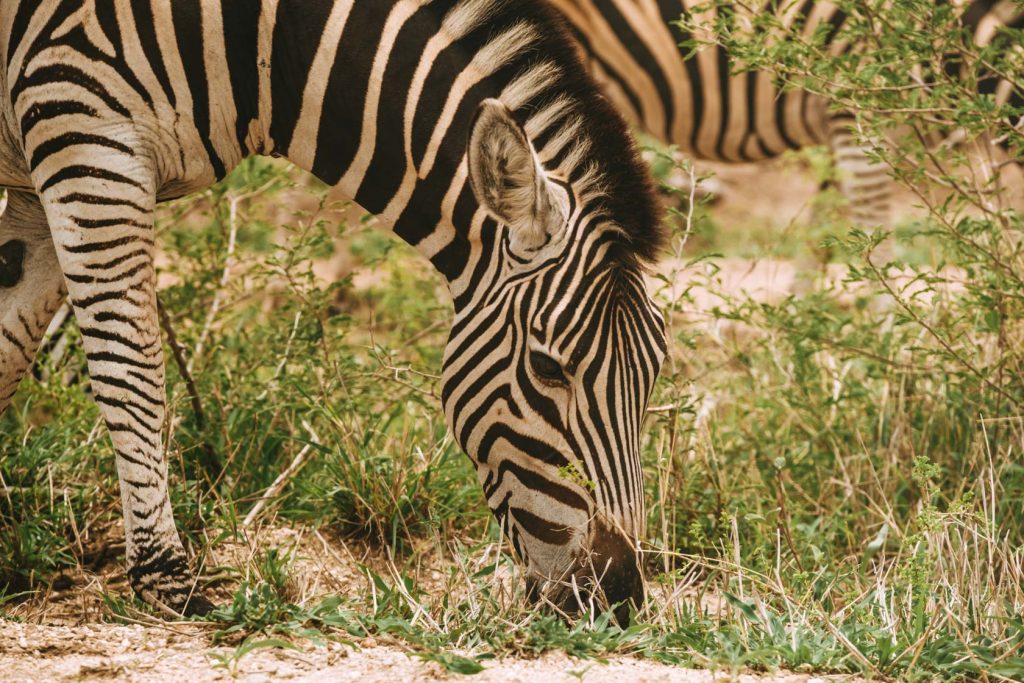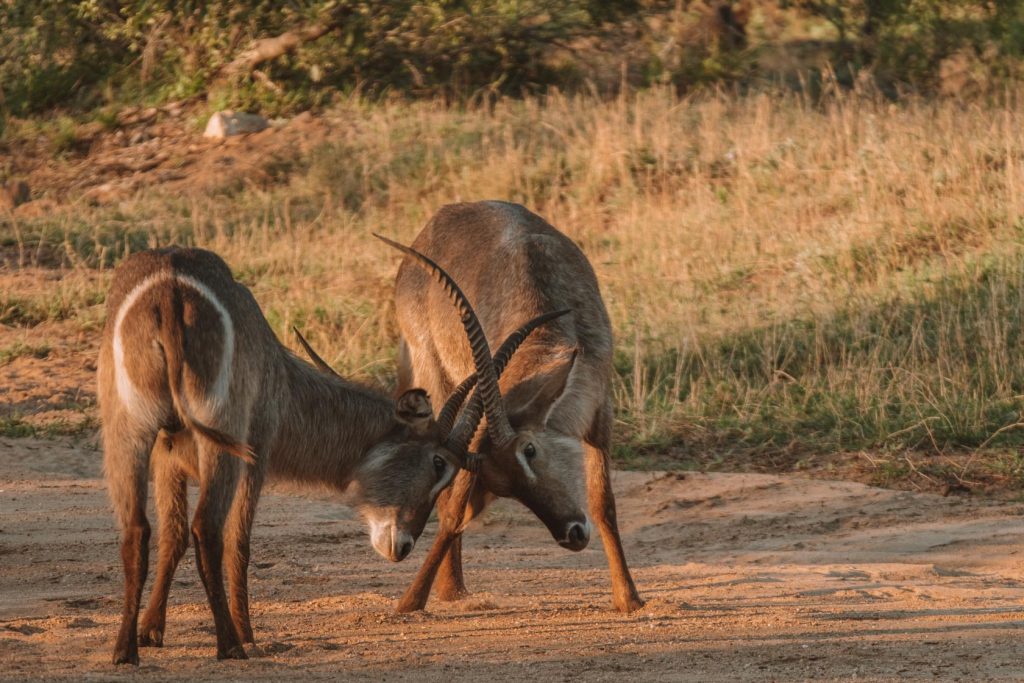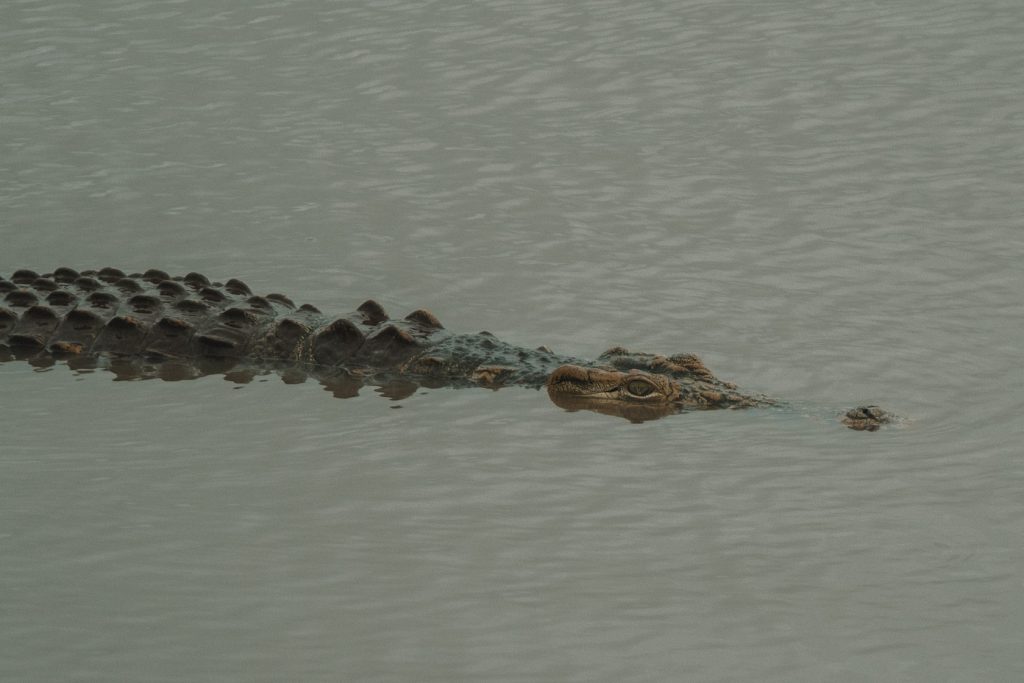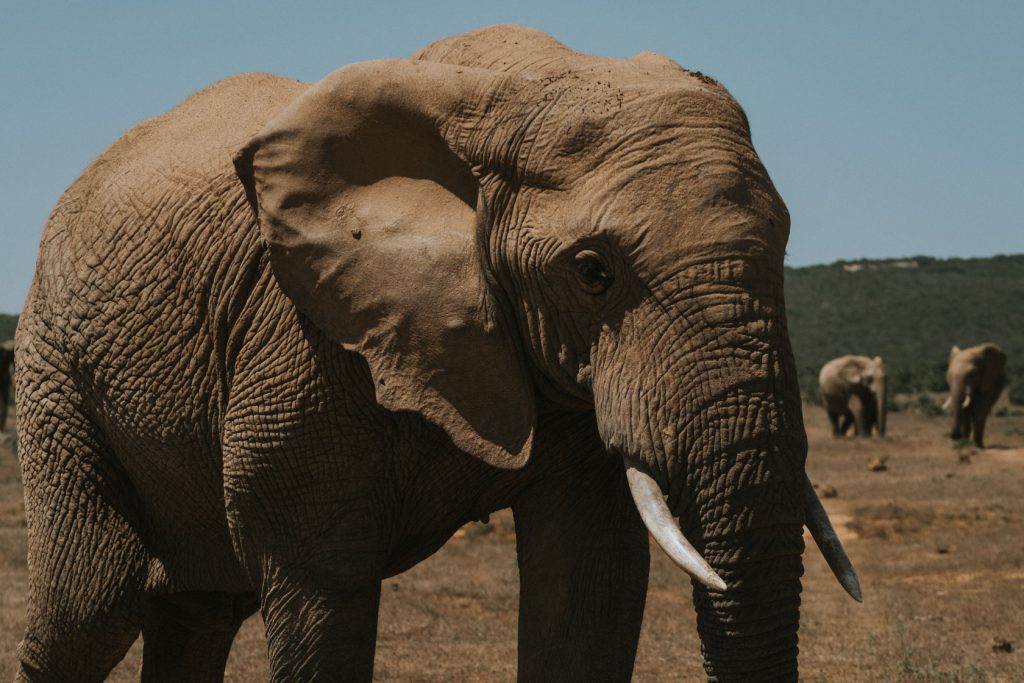 Where to buy this lens
Personally, I buy all my lenses new on Amazon, including this lens.
There are occasional deals (do subscribe to my newsletter if you want to stay up to date on that!), but for the most part, there is a "lowest" price that Fuji offers their lenses at and it's pretty consistent across the internet. You can always check out B&H Photo for price comparison and regional rebates.
Here's where to pick up the lenses mentioned in this post:
If you don't like shopping on Amazon, I can also recommend B&H Photo if you are in the United States.
Unless you know what you're doing, I don't generally recommend bargain-hunting on eBay (if it seems too good to be true…it usually is ;)).
Did you enjoy this post? Let's keep in touch.
Follow our brand new Facebook page at Fun With Fuji, and subscribe below to get the latest Fuji deals and news in your inbox.